Alkaline water electrolysis
H2mex is proudly distributing the HydroGen2 generator in Mexico, Canada and the USA. A high efficiency, professional grade electrolyzer for abundant amounts of Hydrogen at any time. It has distinct features compared to anything else in the market and compared with other pure hydrogen generators, a modest price.
HydroGen2 with accessories: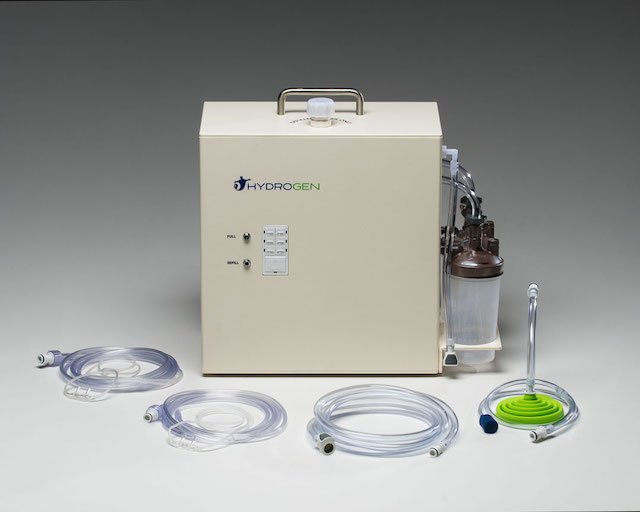 2 standard nose canulas - extension hose - water bubbler and the flexible topic application.
440 ml Hydrogen & 220 ml Oxygen per minute
Ultra-efficient molecular hydrogen generator
High quality digital timer switch: 1, 5, 10, 15, 20, 30 minutes
High quality power supply (110v/220v)
2 Medical-grade gas purifiers
3 Modes of gas application: inhalation, water infusion, topic
2 Cannulas for inhalation
Water infusing attachment
Soft, flexible, silicone external spot applicator
6-foot extension hose for application
Medical-grade flexible tubing and connectors
All electrical and electronic components are UL listed
3 Year warranty on molecular hydrogen generator
1 Year warranty on electronic power supply, timer switch and cooling fan
Hand-Made in the USA with the Highest Quality materials
The generator can do a lot of different things: Apply the gas topical, produce hydrogen water or breathe the gas directly and finally, mist the Hydrogen water on your skin.
Your ongoing expenses are pure water and electricity. Owning a Hydrogen Generator is like having a portable pharmacy for a plethora of inflammatory diseases. Hydrogen will assist any healthcare provider.