We are a growing group of persons having decided to try out hydrogen therapies. Since the mentioned non-toxicity of hydrogen at all concentrations, we wanted to play with it right now.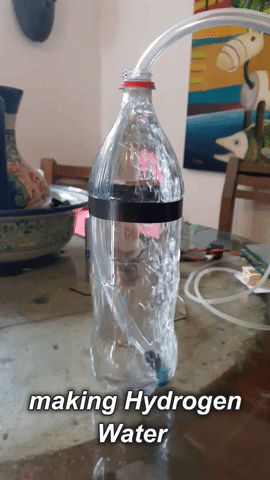 To have abundant quantities of H2, I build myself an electrolyzing oxy-hydrogen generator, added a couple of gas cleaning bubblers and a dryer and started bubbling drinking water and drinking it. It has perceptible, energizing effects from the first glass I drank to today. The skin loves a spray of H2 water in the face each other day. Wrinkles are waning.
H2 Water has lots of not understood properties. Ex:. The absolute tiniest concentration (0.018mg/L) dissolved in water has still statistical significant effects.
Real physical effects started to happen when we started breathing it daily. Muscle relaxation, great sleep, no problems on stairs, no stomach aches, urination works better, constipation gets removed, burn wounds heal better, well moisturized skin and so on...
Things start to sort itself more every day and a general wellbeing, increased fitness and alertness are reported from all persons that drink and inhale H2 for a couple of weeks.
After trying all kinds of hydrogen ingest methods for several months, we can say with confidence:
Hydrogen is not curing diseases, it removes oxidative stress related symptoms, lowers inflammations, modulates signals throughout the body and activates cytoprotection for the cells.


There is no cure without removing the cause of the disease. That is common sense.
HOW TO GET AND/OR MAKE HYDROGEN?
A recommended path for beginners:
Start with tablets ( USD $60 ), if you see improvements, go for a water maker. The little USB pitcher things for USD $100 - $500 usd. Then, if you want to get serious and have water all the time and want to try inhalation, buy a browns gas generator ( USD $800 - $1,300) or a PEM hydrogen only machine ( USD $1,500 - $5,000 ).
The difference between the two generator types is that browns gas is composed of 2 parts hydrogen and one part oxygen, the PEM machines make only hydrogen because they discard the oxygen.
I see no difference in effects, browns gas generators are giving higher volumes of hydrogen for a lower initial cost. From the moment you own a gas generator, you can splurge with hydrogen. No followup costs except for the distilled water.
---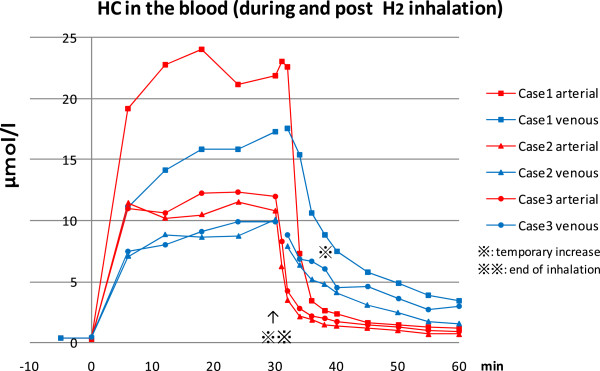 I personally use a 1 hour inhalation session right when I wake up, my wife uses it to fall asleep at night ( I turn it off after 60-90 minutes ). We both drink each day a liter of hydrogen water. It is not as critical when, but important to continuously do it for some weeks. The gas leaves the body in about an hour ( see chart above ), but the effects are going on for days because of the signal modulation that gets activated with the tiniest concentrations of hydrogen.
The third way you can use a gas generator is applying the gas directly to the body where it hurts. Very effective for arthritis, burn wounds and various skin diseases.
Having a generator, you will be the center of attention for all oxidative stress related issues.
Contact me below with the contact form or PM me on FB when you have questions.
---
Hydrogen sources:
Except where "H2mex Hydrogen gas generators" are mentioned, these are not my products and I have no comercial relation with them. I am merely pointing out where to find what.
INFO: The metric that you have to use to compare the concentration of the various products is
ppm ( parts per mil ) or mg/L ( miligram per Liter ) for water products and
lpm ( liters per minute ) for gas generators.
The market sells hydrogen sticks, tablets and powders that employ magnesium to create H2:
You can purchase packs of Hydrogen infused water in aluminium pouches and cans:
You can buy hydrogen water makers in any form and shape:
The exclusive group of Electrolyzer H2 Gas Generators:
The even more exclusive group of H2 testers:
Click the markers and find out where on the planet the hydrogen experts are and how to contact them.
H2mex is distributing the "HydroGen I" generator in Mexico. A high efficiency, professional grade electrolyzer for abundant amounts of Hydrogen anytime. It has distinct features compared to anything else in the market and a modest price compared with other hydrogen generators.
Appart from bubbling water, the generator can do a lot more: Apply the gas topical, drink bubbled water, just breathe the gas directly and finally, for clinical settings, doctors use unopened, sterile saline solutions swimming for a day in H2 infused water for operations.
HydroGen with accessories: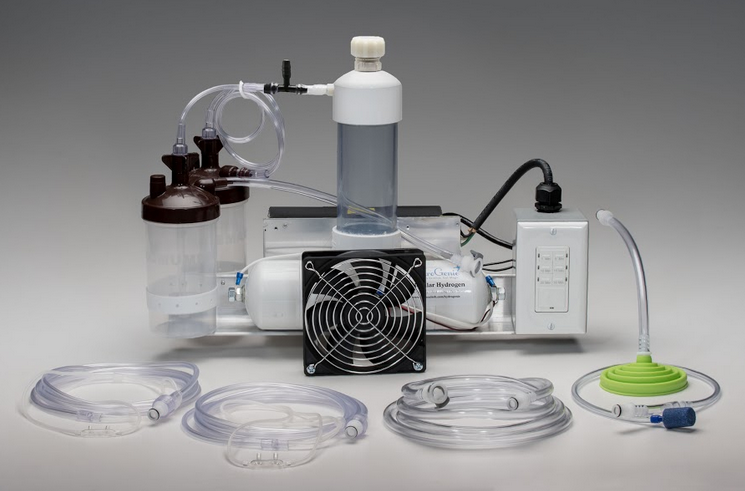 2 standard nose canulas - extension hose - water bubbler and the topic, flexible cone application.
Specifications
Ultra-Efficient Molecular Hydrogen Generator
3 Modes of Gas Application: Inhalation, Water Infusion/Ionization, Direct Application
High Quality 12 volt power supply (selectable 110v AC/60hz or 220v AC/50hz)
High Quality Digital Timer Switch with the following settings: 1, 5, 10, 15, 20, 30 minutes
2 Medical-Grade Gas Purifiers
Food-Grade Flexible Tubing
Medical-Grade Tubing Connectors
Water-Infusing/Ionizing Attachment
Cannulas for Inhalation
Soft, Flexible, Silicone External Spot Applicator
6-foot extension hose for application
Packet of Electrolyte for highest efficiency and generator durability
Operation Manual and recommendations
Hand-Made in the USA with the Highest Quality materials
All Electrical and Electronic Components are UL Listed for your safety
3 Year Warranty on Molecular Hydrogen Generator
1 Year Warranty on Electronic Power Supply, Timer Switch and Cooling Fan
You are three steps away from owning a Professional Hydrogen Generator.
A - To obtain all the information FedEx requires, please send us your full name, address and phone number in the contact form on the bottom of this page. Select Purchase Hydrogen 1 and add your address and phone in the message field. Then come back to this section.
B - Choose the purchase button for your country and pay via Paypal.
México

MXN $20,700 including shipping.

USA

USD $1,150 including shipping.
C - We confirm the order per email with a tracker link so you can follow the route. The delivery time in the US is a couple of days, in Mexico it takes around 20 days.
Cancún
MXN $700 / week + MXN $100 for delivery and pickup.
Ordering hydrogen water online or making 1 liter of hydrogen water with tablets costs around MXN $36 - $120 per day. As a new hydrogen consumer, the goal is to expose the body to hydrogen multiple times each day. Normally in a couple of weeks, after homeostasis is reached, the frequency can be dropped to one inhalation and a couple of liters of water per week to maintain the balance.
With the Hydrogen 1 generator, all options are on the table: Drink as much water as possible ( 1-2 liters ), take several 20-30 min inhalation sessions spaced with a couple of hours in between, spray the water on your skin as often as you want and see how you feel after some days.
Only an on-demand hydrogen source will give you that freedom to splurge with a lot of hydrogen. You can not store the water for long, half the hydrogen has left the bottle after 2 hours. Bubble it again for 5 min to restore the concentration. And you can make gallons of water per day for your friends, family and pets.
Contact me for details at the bottom of this page.
HydroGen II has currently prototype status and we are performing multiple tests. This perfected unit will have a housing, bigger tank, 10 hour operation and will be available in 2018.
Hydrogen is generated on-site, on-demand, where and when it is needed. HHO cells have become quite efficient and can even be build at home. All electrolyzer generate a mix of two parts hydrogen and 1 part oxygen. The additional oxygen in the mix facilitates the breathing.
H2mex designs and builds custom hydrogen generators for any project size.
The LEGO 1 H2 generator is a rugged version for humid environments.
Cost in Mexico: Depending on specs, starting at $ 600.00 USD + shipping.
Contact me so we can define the configuration together.

Hydrogen Spectral lines
There is no free molecular hydrogen on this planet. Well, to be exact, the level is very low ( 0.000055% v/v ).
Hydrogen dissipates through bottles, bodies, rooms and buildings into the atmosphere and into outer space.
Hydrogen has an intriguing history. It is the father of all elements of the universe, and along with oxygen, it has been intrinsically involved with evolution of life in both prokaryotes and eukaryotes ( e.g. hydrogenases, hydrogosomes, mitochondria, etc.). It is the extremes of oxygen and hydrogen that provide balance between oxidation and reduction, which is vital to life.
Not surprisingly, this intimate relationship of oxygen and hydrogen has remained with higher organisms including plants, animals, and humans. However, until recently, research has only focused on the importance and toxicity of oxygen dismissing the role of hydrogen altogether, which negates the toxicity of oxygen; focusing only on one side of this Yin and Yang type relationship.
In Space molecular hydrogen is found primarily in molecular clouds. These are interstellar gas clouds, which have been found to trace the spiral arms in the disks of spiral galaxies, and contain the material out of which new stars are born. In other words, molecular hydrogen is a vital ingredient in active star formation.